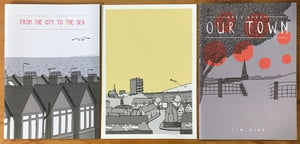 £

18.00
2 great comics + a beautiful A4 signed print!
"This is beautiful work, Bird creating images that sit there and demand the reader ask questions, images that look gorgeous yet also demand that the reader engage" - Richard Bruton, Forbidden Planet International
"Grey Area is a piece of beautifully understated storytelling from Tim Bird, and one that fully deserves your considered attention and support" - Andy Oliver, Broken Frontier
From the City to the Sea:
**WINNER OF THE BRITISH COMIC AWARDS BEST COMIC OF 2014/15**
In this instalment of his award winning comic, Tim Bird travels east out of London to the North Sea, through the outskirts of the City, suburban streets and marginal spaces, loosely following the route of the River Thames to the estuary and beyond.
From The City To The Sea is a comic about this landscape and how personal stories and historical memories become embedded in this place.
Our Town:
Place. Memory. Stories. Lives.
Memories from childhood. Relationships with those we love. The environment that we experience. The time and place within which we exist.
These aspects of our lives are questioned and interrogated - memories and places change, whilst we are shaped by our connections with those close to us, as well as the landscapes we inhabit.